Vomit Apparel
Step this way for the coolest and funniest t-shirts, hats and other hilarious merchandise on the web.
Choose from one of our 6 great designs:
Can you imagine how impressive it would be if you turned up at a party in your very own barf t-shirt?
As a special bonus, most of our t-shirts feature our cool vomit terms montage on the back!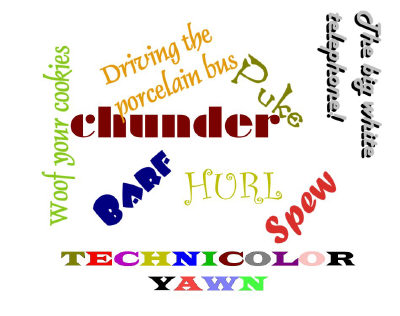 Men, you'll be streets ahead of the other knobs when it comes to picking up women.
Ladies, you'll be broadcasting your intentions to get horribly drunk and pass out, immediately increasing your sexual desirability among the drinking class.
We don't just barf on t-shirts - there is a wide range of merchandise available. We have Sweatshirts, Mousepads, Mugs, Beer Steins, Bumper Stickers, Hats, Boxers and much more!
---
Home | Vomit Stories | Vomit Pictures | Vomit Terms | POY T Shirts | Email Us
---