The Your Gift Bridal Registry is an online wedding gift registry service.

Many couples wish to use a gift registry for their wedding but don't want to be restricted to one store. Your Gift offers a more flexible solution.

After registering with Your Gift, the couple select gifts from participating outlets. Their selections are placed on the web site.

Your Gift supply cards with the username and password for the couple's gift registry, to be sent out with wedding invitations.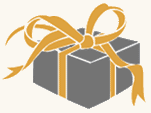 Guests can select and purchase gifts securely online, using any major credit card.

Gifts are wrapped and delivered free by Your Gift.