Vomit Related Stuff:
The Vomit Shop - Cool T-Shirts and stuff.
The Vomitorium Store - More Pavement Pizza than you can poke a stick at!
Spew Central - Home of the "Technicolor Yawn" design range.
Barf City - I Drink therefore I Barf!
The Puke Palace - Puking makes me sick! - Totally Sick!!!
The House of Ralph - Stylish apparel for the discerning vomiter.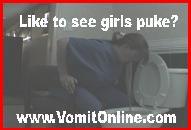 Portal of Evil - your key to the web's weirdest and most obscure sites.
Skitzo - The World's Hottest Heavy Metal Puke Band!
ParadiseisLost.com - Genuine Puke Art.
Other amusing sites:
Johnny Belch and The Burpettes - They Burp, they Fart and they Rock! - New CD out soon - check the site for MP3 previews of their hot new tracks!
POY-T-Shirts - Get your girlfriend into a Wet Tshirt! Loads of cool designs.
c n u t - Crisp Neutral Understated Trends - the lastest in Fashion Design.
Ernie The Wonder Buffalo - Visit the Canadian Prairies with Ernie and his pals
Rubber Chicken World featuring Dancing Merryl
Proton Girl - The coolest superhero on the planet!
Arnold the Amorous Penguin - He's a real party dude!
Bloody Mongrel - Amusing anecdotes relating to mongrels and bastards. We all know someone who belongs on their list...